Annex 13 - Aircraft Accident and Incident Investigation
Developed by ICAO, the International Standards and Recommended Practices (SARPS) contained in the nineteen Technical Annexes to the Convention on International Civil Aviation (also called Chicago Convention) are applied universally and produce a high degree of technical uniformity which has enabled international civil aviation to develop in a safe, orderly and efficient manner.
Although civil transport is considered to be the safest means of transport, air navigation is an activity facing many potential dangers. The international character of civil aviation necessitated the development of law that would make sure that any accident or incident of an aircraft anywhere in the world would be subject of investigation.
Annex 13 defines an accident as an occurrence associated with the operation of an aircraft: in which a person is fatally or seriously injured; in which an aircraft sustains damage or structural failure requiring repairs; after which the aircraft in question is classified as being missing. According to the provisions laid down in ICAO Annex 13 to the International Civil Aviation Convention - Aircraft Accident and Incident Investigation, States shall investigate or delegate the investigation of accidents which have occurred in their territory. Serious incidents should be investigated by States or by other organizations, such as dedicated accident/incident investigation bodies or aviation service provider organizations. When an accident happens involving an international civil aviation flight, Annex 13 sets out the rules on the notification, investigation and reporting of the accident. Annex 13 outlines how accident investigation participating States are determined, as well as the process leading to the issuance of an accident investigation Preliminary Report (within 30 days of the event) and Final Report (ASAP or within 12 months of the event) following completion of the investigation. Final Reports ultimately provide as much official information as possible on an accident investigation's findings, causes and/or contributing factors, as well as any safety recommendations on how applicable aviation safety frameworks should be amended in the future. It sets out the rights on who should conduct the investigation, which are the parties who can be involved, what right dues each party has, how should the investigation be conducted, and how the final results should be reported. Annex 13 also states that the sole objective of the investigation of an accident or incident is to prevent accidents and incidents and that the investigation is not to apportion blame or liability. ICAO does not normally participate in aircraft accident investigations, except when the State or States with due authority under Annex 13 request our assistance directly; in those exceptional circumstances, assistance normally involves ICAO acting as an official observer and/or clarifying various Annex 13 requirements when requested.
When PICAO came into existence in 1945, Technical Divisions composed of specialists from Members States and of observers from organizations interested in international civil aviation, assisted by the Organization's Secretariat, were directed and coordinated by the two committees of the PICAO Council, i.e., the Air Navigation Committee and the Air Transport Committee. The Search and Rescue Division (SAR) and the Accident Investigation Division (AIG) were responsible for the preparation of texts designed to replace the original Annex L to the Chicago Convention named: Search and rescue, and investigation of accidents.
The AIG Division held its first Session (8 meetings) from 22 January to 21 February 1946 and prepared recommendations which were further developed at its Second Session held from 4 to 17 February 1947. The first edition of Annex 13 named Aircraft Accident Inquiry was first adopted by the Council on 11 April 1951.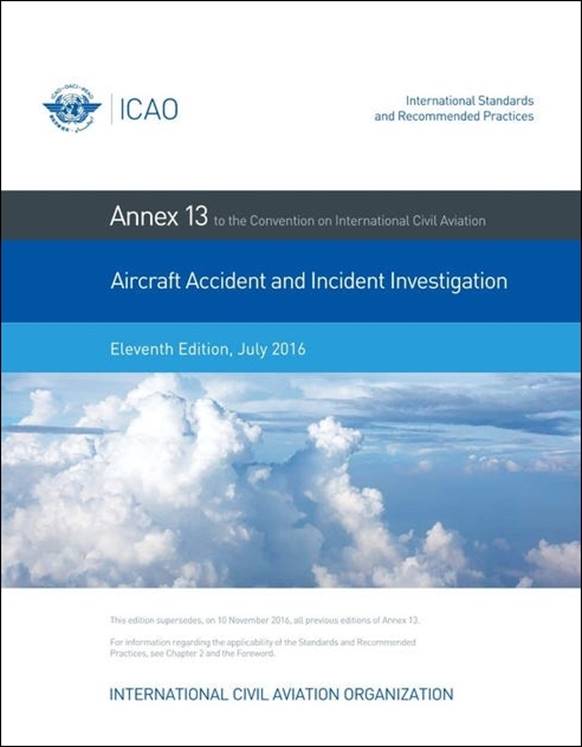 Annex 13 – Front Page
The title of Annex 13 was changed to Aircraft Accident Investigation with adoption of the 4th edition on 18 December 1975 further to the meeting held by the Accident Investigation and Prevention Divisional Meeting (AIG/1974, held in Montréal from 3 to 24 June 1974). The latter Meeting noted that in many States the word "Inquiry" had judicial connotations, which seemed undesirable in Annex 13 mainly concerned with technical considerations. In addition, it noted that these judicial connotations could be considered as falling solely within the national jurisdiction of States and were therefore inappropriate to ICAO provisions. There was a clear consensus at AIG/1974 that accident prevention was the fundamental objective of an accident investigation and that it was not the purpose of an investigation to apportion blame or liability. The Meeting also noted that the use of the two words "Inquiry" and "Investigation" had in the past caused problems in the formulation and understanding of Annex 13 as well as difficulties in interpretation.
The 8th edition of Annex 13, which stemmed from the recommendations of the Accident Investigation Divisional Meeting (AIG/1992, held in Montréal from 11 to 28 February 1992), was adopted by the Council on 23 March 1994 and the title was changed to Aircraft Accident and Incident Investigation. This major amendment broadened the applicability of the Annex to domestic as well as international accidents, and it introduced requirements for notification and investigation of serious incidents. It strengthened the entitlements and obligations of accredited representatives and their advisers, as well as the rights for operators and States of Design and Manufacture to participate in investigations. It also re-emphasized the need, for accident prevention purposes, to separate accident investigations from judicial or legal processes in order to prevent thorough and competent technical investigations from being impeded. The provision for complete autopsies was strengthened including emphasis on the need for toxicological examinations. According to the definitions of Annex 5, an incident is defined as an occurrence, other than an accident, associated with the operation of an aircraft which affects or could affect the safety of operation.
Later, amendments to Annex 13 were required as a result of recommendations of the Air Navigation Commission or Accident Investigation and Prevention (AIG) Divisional Meetings or Assembly Resolutions or ICAO Safety Panels, etc.
Annex 13 provides for Accident Data Report, i.e. a detailed final report prepared by the State instituting the investigation and distributed with maximum dispatches to Contracting States together with any safety recommendations, as the entire aviation community has a vested interest in the results of any aviation accident investigation anywhere in the world. Computerized databases greatly facilitate the storing and analyzing of information on accidents and incidents. The sharing of such safety information is regarded as vital to accident prevention. ICAO operates a computerized database known as the Accident/Incident Data Reporting (ADREP) system, which facilitates the exchange of safety information among Contracting States.
Responsibility for an investigation belongs to the State in which the accident or incident occurred. That State usually conducts the investigation, but it may delegate all or part of the investigation to another State. If the occurrence takes place outside the territory of any State, the State of registry of the aircraft has the responsibility to conduct the investigation. The international standards and procedures outlined in Annex 13 are complemented by ICAO Doc 9756 - Manual of Aircraft Accident and Incident Investigation, ICAO Doc 9156 - Accident/Incident Reporting Manual, and many other Manuals.
The Manual of Aircraft Accident and Incident Investigation (Doc 9756) has 4 parts, as follows:
1. Part I - Organization and Planning include considerations for the establishment of an aircraft accident investigation authority in terms of its structure, staffing and legislation. The planning of an investigation and the notification process for accidents and incidents are also addressed, as are the initial actions to be taken at an accident site, with particular emphasis on the safety of personnel. A directory of the accident investigation authorities in all States and their contact details is included.
2. Part II - Procedures and Checklists provide information on the common techniques and procedures, as well as checklists to assist States in aircraft accident and incident investigations. The manual also provides guidelines on major investigations that can be used, particularly, in the conduct of larger accident investigations.
3. Part III – Investigation provides guidance for the investigation of all technical areas that may have been involved in an aircraft accident or incident. Likewise, guidance is provided for the several phases of an investigation. Contents addressed include, among others, wreckage investigation, structures and systems investigation, flight recorders, aircraft performance, etc.
4. Part IV - Reporting provides guidance in developing the final reports as a result of the investigation of aircraft accidents and incidents, including comprehensive guidelines on drafting and processing of safety recommendations. It outlines the format and content and the procedures for consultation, release, distribution, and dissemination of the final report.
In 1998, during the 32nd ICAO Assembly (A32), the subject of assistance to aircraft accident victims and their families was considered. Participants acknowledged that the policy of ICAO should be to ensure that the mental, physical, and spiritual well-being of victims involved in civil aviation accidents and their families are considered and accommodated by the Organization and its Member States. Following discussions, Resolution A32-7 urged the ICAO Council to develop guidance material, citing the need to establish regulations and programmes by Contracting States and their air operators to support aircraft accident victims and their families.
ICAO first issued guidance on family assistance in 2001. In 2013, it published the ICAO Policy on Assistance to Aircraft Accident Victims and Their Families and an accompanying manual. The topic was also formally acknowledged by States at consecutive ICAO Assemblies in 2013 (38th Session) and in 2016 (39th Session) and considered by a special session of the 13th ICAO Air Navigation Conference (AN-Conf/13) held in October 2018.
In 2021, the ICAO Council held a further meeting on the subject with the Air Crash Victims' Families' Federation International (ACVFFI, founded on 21 July 2015). In a related development, the ICAO Facilitation Panel subsequently recommended that associated priorities be enshrined in a full ICAO Standard to ensure stronger international compliance and alignment.
ICAO convened its first-ever international Symposium on Assistance to Aircraft Accident Victims and Their Families from 1 to 3 December 2021 at Las Palmas de Gran Canaria (Islas Canarias), Spain, providing an important platform to enhance global cooperation toward their care and treatment.
In addition to the Symposium, the ICAO Council adopted Amendment 29 to ICAO Annex 9 - Facilitation which has elevated Recommended Practice 8.46 to Standard 8.47, thus obliging States to establish legislation, regulations, and policies in support of assistance to aircraft accident victims and their families.
Apart from work already undertaken through ICAO to address the needs of aircraft accident victims and their families through policies and recommended practices, ICAO has also developed a training course to help countries set out appropriate family assistance legislation, regulations, and plans. It also continues to promote the widespread ratification and implementation of the Montreal Convention, which provides for fairer compensation and greater protection for victims.
Mr. Sciacchitano, ICAO Council President, also announced that the ICAO Council has very recently approved the establishment of 20 February as a new international day for the commemoration of lives that have been lost due to aircraft accidents. This date of 20 February was based on the fact that that day does not celebrate any other international day worldwide being one of the few dates that are free to commemorate it. The inaugural International Day Commemorating Air Crash Victims and Their Families was marked on 20 February 2022. That day was established in order to increase knowledge about the consequences of people who suffer an air accident and to attract them to another more hopeful path that allows them to continue living to contribute to the common good.
A crash cover (see examples here below) is a philatelic term designating an envelope that has been recovered from an airplane crash or interrupted flight. Aviation-related crash covers are a specialized collecting area of aero-philately and are much-prized items of postal history, because they are generally rare, but tangible artefacts of often-tragic accidents or incidents; they have a story to tell.

Terres Australes et Antarctiques Françaises – 2 January 2011
The triptych refers to the first airmail route between France and Madagascar and the Juan de Nova airplane accident occurred in 1929.
In just over 10 days, the crew made ​​up of three men Captain Marcel Goulette, Pilot René Marchesseau and Mechanic Jean Michel Bourgeois on board of a Farman 190 F-AJJB airplane (see stamp on the left) landed in Antananarivo (from Paris Le Bourget Airport) on 27 October 1929.
On 8 December 1929, the plane flew back to Paris with on board many letters commemorating this first airmail route. But a fuel leak forced the crew to land in emergency (with a damaged propeller) on the Juan de Nova Island in the Mozambique Channel (see map of the region in the middle).
The letters on board (transferred to a steamer to continue the journey by sea) then received various mentions testifying to this accident; an example is reproduced on the stamp to the right (with the crew and aircraft in the background).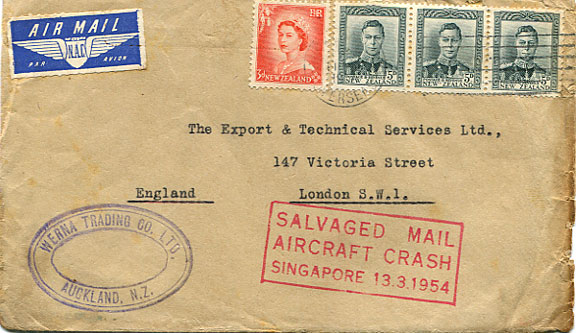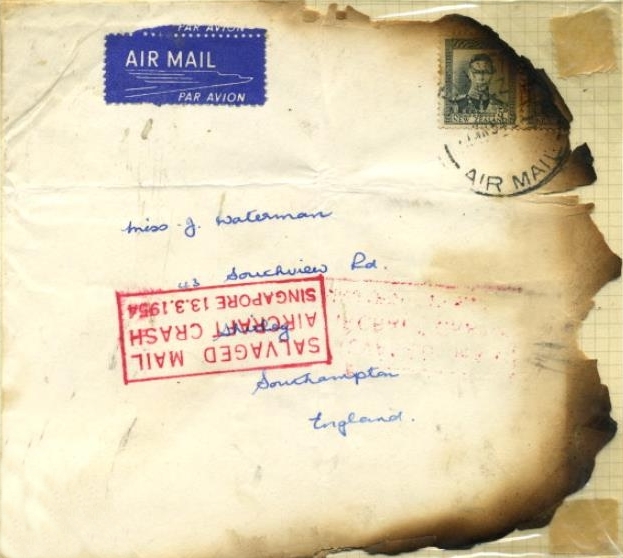 Mail salvaged from the crash of the Lockheed L-749A Constellation named Belfast of British Overseas Airways Corporation - BOAC (registered G-ALAM, pilot Trevor W. Hoyle).
On 13 March 1954, this aircraft flew from Sydney to London, with intermediate stopping points. Having taken off at Jakarta, Indonesia, the aircraft crashed and caught fire on the approach to Kallang Airport, Singapore killing 33 of the 40 passengers and crew. The inquiry attributed this to crew tiredness, noting that the captain had been on duty for over 21 hours. The salvaged mail (most of it for England) received the red boxed three-line cachet: SALVAGED MAIL / AIRCRAFT CRASH / SINGAPORE 13.3.1954.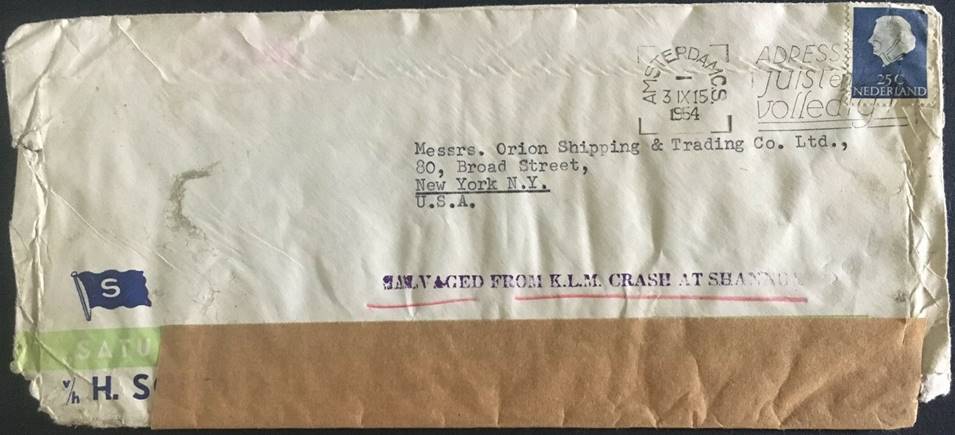 Mail salvaged from the crash of the KLM Lockheed L-1049C-55-81 Super Constellation, named "Triton", on Sunday 5 September 1954 at Shannon, Ireland. Out of 56 occupants, including crew, 28 were killed.
The KLM Super Constellation registered PH-LKY (Flight number KL633) was piloted by Adriaan Viruly, one of the airline's most senior pilots. It operated on the Amsterdam-New York route. A scheduled refuelling stop was made at Shannon. The aircraft left Shannon Terminal Building at 02:30 hours at night; 31 seconds after takeoff, the airplane ditched on a mudbank in the River Shannon. The accident was caused by an unexpected re-extension of the landing gear, possibly compounded by pilot error.
The salvaged mail received the black-line cachet: SALVAGED FROM K.L.M. CRASH AT SHANNON.
_________________________